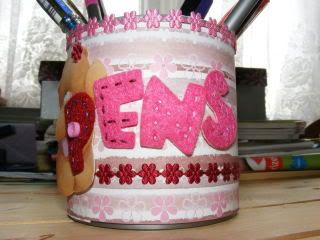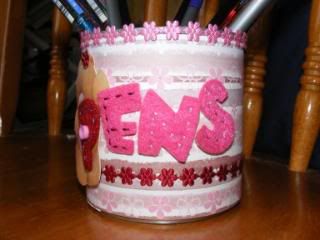 Well This was my first ever pen tin and the first time I have ever taken part in a challenge ever. Its also the first challenge that
oorchallengeblog
has set so its a first time for all.
I created my Pen Pot out of a sparkly clean Tesco sweet corn tin, its slightly wider and shorter than a normal baked bean tin, so I can shove more in it and see what's in it too. To decorate I have used Party Time Forever Friends Backing Papers, Anita's Sticky Ribbon - daisy chain, and some craft alphabet stickers I picked up a while ago from a pound store.
I am quite pleased with the end result so much so it will not be shoved away in the craft blooper box, but put on show in the middle of my craft table, holding the pens and pencils I usually shove in a box where I cant find them. So hurray to
oorchallengeblog
for motivating me to create!
Check out the
oorchallenge blog