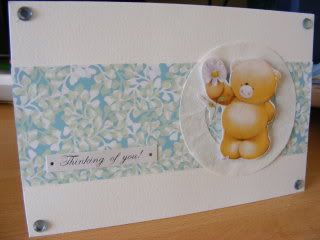 I went out in my car for the first time in about a year. I was shaking like a leaf but got to The Range and Back with no problems!!!
I decided today that I need to get out and drive more as its stopping me from doing things. As a reward for getting to The Range I treated myself to a few little goodies; 2 smirk stamps, a paper mania stamp set of a fairy and tiara, more gluey things, some ribbon and the last goody bag in store, that contains the daisy and dandelion goodies. I did ask about the next goody bag but apparently they are waiting for Trim craft to do a demo day there at the beginning of May before they put them out *sighs*, but I am happy with what I have, I know I will use all of it.
Tomorrow I am hoping to get back in my car again and go for another little jaunt, hopefully it wont be as costly as todays adventure lol, I dont think hubby is going to be too impressed if I visit all the craft shops in the area hehehe
Above is just a quick card for a good friend, just to let her know I am thinking of her at the mo. I used the backing papers from
Tinker&Co
because I love them sooo much!
Happy crafting everyone!