Well this year I decided I had to have another go at sewing and when
Annie the Felt Fairy
organised a Monthly Make for 2011 I thought I would join in.

The pledge is to make some thing, anything once every month. This month I chose to make this Bag With Guinea Pigs on, (everyone knows how much I love guineas!)
bearing in mind this is the first ever time I have ever tried do design anything like this myself, this is what I came up with.
A bit of a wobbly close up on the guineas lol but I think you get the idea!
I actually really enjoyed making it! And shall enjoy showing it off! My daughter adores it so may have to fight her for it lol
So Now I need to think about next months make! If you fancy joining in then there is still time just click the picture below and it will take you to Annies Blog where the details can be found and you will find some piccys of other makes too!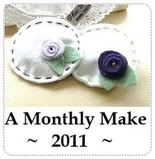 Catch you all soon
Dazie
x