Okay okay I know I have been missing for a few days please forgive me, I haven't been feeling my usual self so haven't been at my desk. I have however finished my first DT project for
Magical Crafts
but you will have to wait until the weekend to see that and I do hope you will join in this fortnight.
Right so after chatting to my lovely blogging and now face book buddy
Dawn
Please check out her fabulous Blog!!!
Dawn
has encouraged me to take part in
WOYWW
This stands for 'what's on your work desk Wednesday'. Why oh Why do I let myself get involved in these things I ask myself and I think you will agree when you see my work desk!!!!
So with out further ado here is my work desk *runs and hides*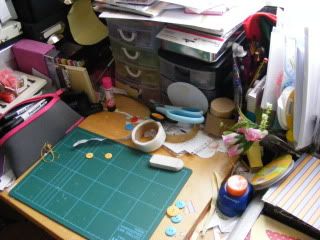 You can see just some left over bits and bobs from my DT work, and basically all my bits of mess that need to be around me so I can work, this however is more tidy than it usually is (gosh I am so embarrassed, you haven't even see the floor!!!! This is in our bedroom by the window and I can just about shut the curtains as my stuff sort of goes on to the window sill.
So there we have it. GO get involved! Its good fun *dazie tells her self as she goes to clean her craft space* Oh the shame!!!!
Catch you all soon I have seen there are some changes to the way we upload pics so I will make a new post incase you are unsure about how to do that.
Byeeee
Dazie
x