Morning all I cant believe we are on tuesday already! And its the 1st of March!!! Where did February go?
Mustn't forget Happy St Davids day to all my welsh followers and readers!
I forgot to post yesterday for the monthly makes for febuary, so I better get cracking!
Here is my scotty
I am well pleased with her!
Here is My Kath Kidston Stanly as soon as I got the pattern I had to have ago, I am hoping to make another and it will hopefully be better!
and finally I could not do a post with out Guinea Pigs so here are a couple of Broaches I made
If you fancy joining in the monthly make then click this link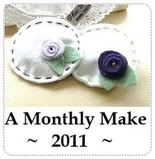 And also whilst your over there you must check out the makes from all the lovely people taking part at our flickar group
HERE
Thanks for popping by and dont forget to add you linky to the candy up in the post above!
Bye for now
Dazie
x