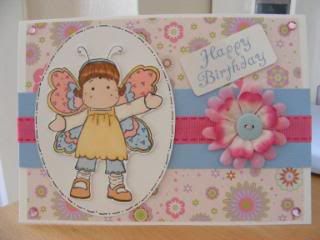 Well I am feeling rather poorly at the minute, as my craft stash is in the bedroom I have been sat resting at the table making a birthday card for a little girl who will be 4 next weekend.
For the card I have used a tilda image, Backing papers from my stash, I cant actually remember where they are from but they are my favourite. The button is from my doocrafts goody bag so is the blue card strip. I have coloured with promarkers and glitter pens and everything else is from my stash.
The Atc is made with left overs of the card, the flowers are from the same goody bag as the button from the card.
I feel happy that I have managed to do this card with out getting cross about it not going right, I think being ill has just slowed me down a little.
Hope everyone else is well this week, its nearly the weekend hoooray!!!!