Well this week has gone from bad to worse but I wont depress you will all the details. Instead I thought I would show you some of the creations I have made, they have sort of taken my mind off of things although I cant say I like them all that much lol Anyhow here we go.
I made this quick thank you card with some bits and bobs from my stash, I used my sugar nellie stamp which I love. Coloured with Promarkers and water colour pencils and some gel pens.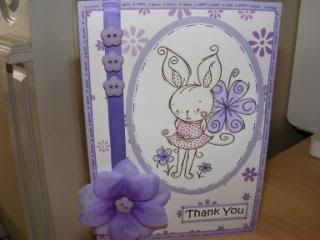 I made this little tag with some goodies from my stash, I haven't written anything on it as yet as I may add to it. Coloured with Promarkers
This this card I made using a tilda image, everything else is from my stash again. Coloured with Promarkers. U also used the paper mania shimmer chalks. The sentiment I typed up and printed off myself.
Finally here are some atc's I have made for a swap on the Docrafts forum, its a bird theme.
Thanks for popping by, please say hello I would love to hear from all you lovely blogging buddies!!!