Morning, its not a very bright Sunday here but I am hoping it will cheer up as we are off to Wales for the day. I am also hoping the roads are clear so we don't get stuck in any traffic, so there will be no crafting today but I have caught up on a few things including these makes and some little musings Angel makes.
Yesterday I had a little play with some felt and made some clips, I am soooo pleased with how they have turned out they are so pretty, my daughter helped me choose which flowers to make and I am pretty sure she is going to love wearing them!
So these are my monthly make for April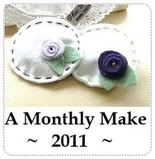 Dont forget there is a brand new challenge over at craft your days away with a DT call. And there is 1 week left for Sparkles forum challenges the theme is Anything goes.
Have a great sunday all!!!
Dazie
x