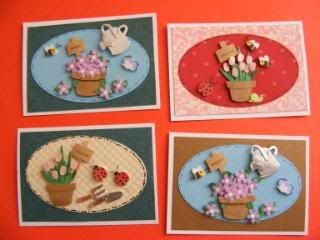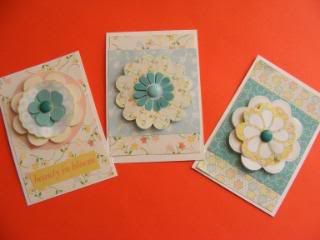 We are in the middle of a week already, where did the time go? I have been planting some veggies and generally just enjoying the garden so haven't had a huge amount of time to make any cards. I have however managed to get my Garden/Flowers docrafts atc swap finished and made a few other atc's too.
The top pic is of my Garden/flowers swap, I used bits and bobs from my stash. I quite like the way they have turned out, especially after my 4 year old son decided he would help by pouring a whole bottle of PVA glue over my original creations. Luckily I managed to save some bits and bobs and make these.
My stamp arrived from the craftypad, I am so pleased to have won, so I had to have a quick play with it and made a couple of little fun atc's.
The flower atc's have been made with some freebie papers, from a magazine that I forget the name of lol I used some papermania brads for the middle.
Last is my froggy Atc, he is for a young lad who made me a lovely Flower atc so he will be on his way to him today.
Hope you have a lovely wednesday and enjoy the sunshine!